<![if !vml]>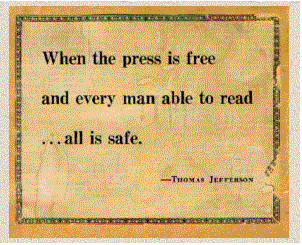 <![endif]>Clausen <![if !vml]>

<![endif]> Books
Book Collecting 101
2018  Edition                              
| Home |  Question about collecting?  Ask here  |
<![if !vml]>

<![endif]>  Clausen Books on Facebook
<![if !vml]>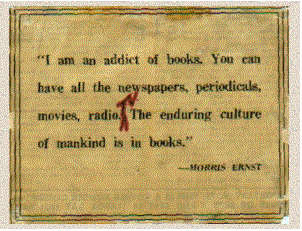 <![endif]>
I love books, but what should I collect?
| Top |
collect what you love-
books on your profession, your hometown, family genealogies, a favorite author, illustrator, book designer, publisher, binding style, genre, areas of interest, historical eras, literary award winners, hobbies, books you read as a child…
Successful book collectors begin as readers;  If you don't love reading, and love and respect books, then don't collect books.   Knowledgeable, successful book collectors read, read, read.
Our customers collect books on:  specific World War II aircraft; books published in the Southern U.S. only during the civil war; author's first books; signed First Editions; Modern Library editions; books that are only  listed in Howes U.S.Iana;  early Nancy Drew titles, before 1960; books illustrated by Arthur Rackham; odd-shaped books; books with binder's defects, such as upside-down title pages; books with maps; Easton Press and/or Folio Society editions; odd, lesser-known  editions of the bible; miniature books;  books with "signed" bindings (the initials of the book designer incorporated into the design); early Colorado flora and fauna titles; British Royalty; Colorado narrow-gauge railroad history; early automotive technical manuals; books about or by Adolph Hitler; books about the Mormons and LDS, pro or con; books on palmistry, hand-reading, Handology, or Cherioscopy/Cheriognomy; all early U.S. Geological Survey publications; early American witchcraft and mythology; Zane Grey's non-western books, such as his sports titles;  Alcoholics Anonymous; authors who wrote and lived in Colorado Springs; privately published oral histories based on diaries and journals; small press editions.
Many collectors are completeists: they collect everything- both books and ephemera related to their area of expertise.  Tom Bost, the late, great Colorado Springs scholar and collector of James Michener, collected everything Micheneriana, and once remarked that one of the few items he was lacking was an obscure Life Magazine beer ad featuring the author. 
For a great article on book-collecting, visit the Antiquarian Booksellers Association here.
| Top |
· condition The most important factor in determining value; a book will reach its maximum value only when in the finest possible, original condition;  There are those rare cases in which a book may be so scarce that a collector will pay a premium for any copy in almost any condition, but this doesn't help the other 99.8% of books that exist.
· edition Generally, the most valuable and/or sought-after edition is the first edition; With the exception of a few rare cases, reprints and book club editions don't command the high prices of the First Edition/1st Printing. Other editions to consider are limited editions, signed & numbered editions, illustrated editions, Book Club Editions, privately distributed first editions vs. First Trade Editions, and Advance Reading Copies.  Acquire the first edition guides listed further down this page. 
<![if !vml]>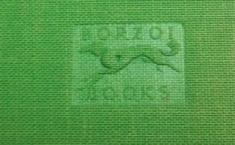 <![endif]>  Pictured here is the Alfred A. Knopf/Borzoi Books embossed Greyhound on the rear lower cover of a Willa Cather book club edition, indicated by the embossed dot on the dog's front shoulder.  This dot is the only indication that it's a Book Club edition.
· provenance & association Who owned the book before you? What's the ownership history of your copy and how did you end up with it? Was it inscribed by the author to an important celebrity or historical figure, or does it proudly display the bookplate of your cousin Bob's former girlfriend? The point is obvious - documented ownership may add value if the owner is someone who will affect value based on celebrity, popularity, infamy, etc.
· signatures & inscriptions this goes hand in hand with provenance and association; some collector's prefer a book to be signed only, with no additional inscription. A recent trend indicates that many more collectors like the additional author inscription no matter who the recipient is. Why? It's harder to forge several lines of text, as opposed to a single signature, and gives the handwriting expert more to work with when signature authentication is required.  It's easy to download an "authentic" example of a signature off the internet, practice the handwriting, and before you know it, "signed" copies show up for sale.  If the recipient of the book is an important celebrity or historical figure, a personalized inscription can add significant value. Imagine owning the only copy of John F. Kennedy's Profiles In Courage, inscribed by Kennedy to Fidel Castro which reads: "Dear Fidel, Sorry about that Bay of Pigs thing...can we still be friends? Your Neighbor, Jack Kennedy." No such copy exists, but you see my point. Finally, there are those countless worthless volumes of self-help, inspirational, and motivational advice that no amount of TLC or author signature's are going to help, simply because they are usually printed in large numbers, and they have limited short-term appeal.  One Southern Colorado author comes to mind who seemingly signed every single copy of his popular history, and I have yet to find the scarce unsigned copy.
<![if !vml]>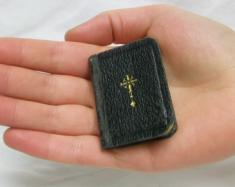 <![endif]>· supply / desirability & demand The fair market value of books depends on supply and demand. A hard-to-find book in great demand will have a higher value than a book available in large quantities that no one is buying. I refer you to those flash-in-the-pan diet and miracle-cure book authors who've had their moment of tv talk-show fame, and whose books now bask in obscurity, forgotten and unwanted.  
                                                              A tiny Pearls of Prayer, leather-bound and printed in Belgium (1939) for Sacred Heart Hospital, Fort Madison, Iowa. ►
· scarcity / rarity The vast majority of books are neither scarce nor rare, and with the increasing number of books being added to the internet everyday, that small number is getting even smaller. Remember supply and demand? I may have the only copy of Fruitgrowers Convention of 1928 left in the world, but if no one cares and the book is forgotten, the value won't be there. On the other hand, a very good condition copy of the 1859 British First Edition of Charles Darwin's Origin of the Species is perpetually in demand, is scarce, and commands a high price.<![if !vml]>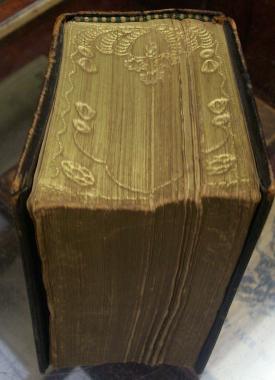 <![endif]>                            
   ◄ A scarce, mid-nineteenth century Dutch-language Holy  Bible with gauffered (goffered) edges.
· age / incunabula I've told many would-be booksellers that the old age of their worn and torn offerings does not determine value. In fact, age is the least important factor in determining book value. There is an exception: collecting incunabula (the first 50 years of printing by moveable type, 1455-1500) is an area in which even a single page of book can have significant value. See my web page on the Gutenberg Bible.
· the dust jacket? Serious collectors of modern first edition fiction won't even consider buying a book without a dust jacket. A fine condition, un-price-clipped dust jacket can be up to 75% of the value of a Modern First, and is as important to the value of some books, as the value of the original paint job is on a vintage 1955 Corvette. It's all about original condition. If the book came with a jacket, then it needs the jacket in order to achieve it's maximum possible value. Some book club editions are very difficult to identify as bce's without the jacket, and in other cases the jacket illustration may be the only reason why a collector wants the book. When you buy a hard cover book, protect the dust jacket with a clear, acid-free cover (Mylar, Duralar, Brodart) and don't clip off the price.  Some dust jackets are reproductions, and should be identified as such.  Dishonest booksellers will try to pass off laser/bubble-jet printed copies as the real deal, so be aware of this trend. Examination under a magnifying glass shows a reproduced dust jacket as having the tell-tale, evenly-spaced, round dots of  the desk-top printer. 
· Library Copies    Thanks to our libraries, many books have been saved from oblivion, and are entering the marketplace through the library discard (de-accession) process.  Many are still quite useful and the marks and stamps don't bother the researcher or a collector who is just happy to have any copy of the long sought-after title.  However, most library copies carry the stigma of stamps, stickers, labels, bar-codes, magnetic strips inside the spines, glue stains and the stain of the dreaded magic-marker.  Once a library book, always a library book. Some booksellers will go out of their way to disguise former library copies as "regular" copies, by replacing front free end papers, attempting to erase and/or sandpaper away ink stamps, painting over notations; removing stickers with solvents, razor blades, or by heating tools which melt many metal-backed spine and bar-code labels.  When this is done, the ethical, honest dealer will tell you that the book is an ex-library copy that has been cleaned up.  Dishonest dealers will pass off these sanitized copies as though they were never the property of a public or university library.  Be very careful what you buy, and if you're doubtful of a book's lineage think twice before buying it.  Maybe you don't mind an ex-lib, but you deserve the truth. Ask the dealer if the book has been cleaned up, tell them why you're asking, but also remember that they may have bought the copy believing it to be a non-library copy.  Honest, experienced dealers will tell you all they know about the book, and won't take offense.
| Top |
- your local used book dealer (ask around, compare prices and develop a relationship with a dealer you trust)
- your public library (the best source of free information; the reference librarian will help you learn the art of research)
- university libraries (core collections on specific genres and authors of interest; repositories of scare source material)
- historical associations (many have focused, subject-specific core collections; you may have to join to gain access)
- state historical societies (many times the repository of last resort for state/regional/county/city history)
-`subject matter bibliographies (pick any subject- someone's done a bibliography, and perhaps you can improve it)
- author bibliographies (the compilation of everything written by your favorite author, but don't rely on just one source)
- study the bibliographies, become the expert  (so familiar with your subject that you write the new reference book)
- the internet (be careful; a huge, murky swamp of valuable and questionable data and spotty research, but it's still fun to fish)
- Dealer Catalogs (tap into the dealer's expertise; I like to compare, get a second opinion, and independently verify
- Talk to other collectors and ask to see their collections if possible.  (compare collecting strategies, take notes)
-  Keep up with the latest literature in your area of  expertise.
Trade Publications
| Top |
Antiquarian Bookman (overtaken by the internet and now out-of-print; the weekly trade publication of the 20th century, excellent in all aspects; every issue featured a piece on the trade; AB Annuals are genre-specific resources)
Fine Books & Collections Magazine (formerly OP, an wonderful source for collectors & dealers; six issues yearly)
Firsts Magazine (in print; best for collectors of modern first editions)
Biblio Magazine (much sought after out-of-print publication for collectors of fine and rare books)
American Book Collector (out-of-print; no gloss, just the facts on all areas of book collecting)
Book Source Monthly (in print; very good, reasonably priced reference for dealers and collectors)
The Colophon (out-of-print hard cover, pre-WWII trade publication; excellent historical and bibliographic source)
Skin Deep (on-line e-zine for bookbinders and book artists from J. Hewit and Sons)
| Top |
Rocky Mountain Antiquarian Booksellers' Association (RMABA) promotes integrity, honesty and expertise
Antiquarian Booksellers Association of America (ABAA) the top dealer's group - pricey, honest, respected experts
Independent Online Booksellers Association (IOBA) on-line dealers promoting honesty, integrity & ethical conduct
International League of Antiquarian Booksellers (ILAB) international dealer's association with strict code of conduct
American Booksellers Association (ABA) for new booksellers; can help you track reading trends and hot topics
Ephemera Society of America (ESA) non-profit; devoted to furthering the collection, study and preservation of ephemera
| Top |
HISTORY
Barbuto, Domenica M.; Kreisel, Martha.  Guide To Civil War Books: An Annotated Selection of Modern Works
Edwards, Paul M.  The Korean War: An Annotated Bibliography. 1998. (Westport) Greenwood Press.
Faunce, Patricia S.  Women and Ambition: A Bibliography
Freidel, Frank.  Harvard Guide To American History.
Haber, Barbara. Women in America: A Guide to Books, 1963-1975
Howes, Wright. U.S. Iana. Bowker. (excellent book dealer's "Bible" of American History; occasionally inaccurate)
Hudson, F. K. (ed.) Railbook Bibliography 1948-1972.  (outdated, but contains valuable, early bibliographic data)
Logasa, Hannah.  Historical Non-Fiction: A Organized, Annotated, Supplementary Reference Book…
Publications of the United States Geological Survey. (Washington) Dept of the Interior/USGS
Rath, F. L.; O'Connell, M. R.  Historic Preservation: A Bibliography on Historical Organizatiuon Practices
Rosenbach Company.  The Sea: Books and Manuscripts. (Phila) 1938.  (a sales catalog , and a fine reference)
Starr, Harris E.  Dictionary of American Biography. 
Work, Monore N. (compiler).  A Bibliography of the Negro in Africa and America. (originally pub. 1928)
Zorab, George.  Bibliography of Parapsychology. (NY) 1957.  (the first ever published bibliography; a classic)
WESTERN AMERICANA
Adams, Ramon F.  Six-Guns and Saddle Leather. (books related to cowboys, outlaws, life in the West)
Adams, Ramon F.  The Rampaging Herd. (books related to the Cattle Industry)
Campbell, William S. (Stanley Vestal).  The Booklover's Southwest: A Guide To Good Reading. (indexed)
Dobie, J. Frank.  Guide To Life and Literature of The Southwest
Dykes, Jeff C. Western High Spots  (excellent overview of the best in Western Americana)
Hull, D. A.; Scott, D. D.  A Bibliography of the Archaeology of Southwestern Colorado…Counties
Newman, John.  Vietnam War Literature:  An Annotated Bibliography of imaginative works about American Fighting  in Vietnam.  (Metuchen ) Scarecrow Press.
Rittenhouse, Jack D.  The Santa Fe Trail: A Historical Bibliography.  
Thaler, Nancy. Indians of Colorado: A Selective Bibliography. (Special Collections, Pikes Peak Library District)
Thrapp, Dan L.  Encyclopedia of Frontier Biography (3 Vols)
Wagner/Camp.  Plains and Rockies (very dated, sometimes difficult to use, but  good for early guidebooks)
Wilcox, Virginia Lee.  Colorado: A Selected Bibliography of Its Literature 1858-1952. (Historical not Literary)
Wynar & Depp. Colorado Bibliography. (the bookseller's "Bible" of Colorado History)
MEDICINE & SCIENCE
<![if !vml]>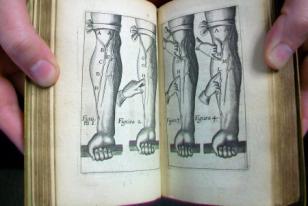 <![endif]>Dr. William Harvey, an English Physician and scientist wrote what is considered the most important medical work ever published: Exercitationes Anatomicae, De Motu Cordis & Sanguinis Circulatione. Cum Duplici Indice Capitum & Rerum [On the Motion of the Heart and Blood] (Berlin) 1629. In this small volume, Harvey announced his discovery of the circulation of blood by the heart. He is the first to recognize and describe the heart's expulsion of blood during systole, its passive refilling during diastole, and the filling of the arteries during systole. His conclusions were based on years of meticulous research and observation and he illustrates his conclusions with clear evidence, thereby establishing the reality of pulmonary circulation. "Harvey's clear reasoning from the observations and precise measurements made during his purposeful experiments supplied the key for advancing knowledge of physiology and was also a model for future scientific procedure." (LeFanu, Notable Medical Books, page 63)...Our copy is the 1660 Rotterdam edition, and pictured here are the book's two illustrations.
Garrison, Fielding H.; Morton, Leslie T.  Garrison & Morton's Medical Bibliography
Horblit, Harrison D. The Library of Harrison D. Horblit: Early Science, Navigation and Travel.
Horblit, Harrison D.   One Hundred Books Famous In Science, Based On An Exhibition at the Grolier Club.
Printing and the Mind of Man (PMM).
Flint, Austin.  Collected Essays & Articles on Physiology and Medicine.
Norman, Haskell F.  One Hundred Books Famous in Medicine.
CHILDREN'S BOOKS
Apseloff, Marilyn Fain. They Wrote For Children Too: An Annotated Bibliography of Children's Literature by Famous Writers For Adults.
Eyre, Frank.  British Children's Books in the Twentieth Century.
Gottleib, Gerald. Early Children's Books and Their Illustration.
Greene, Hanff, Martin, Haff & Greene.  Bibliographia Oziana.  (concise bibliographical checklist of the Oz books)
Helbig & Perkins.  Dictionary of American Children's Fiction, 1859-1959.  Books of Recognized Merit.
Hunt, Peter (ed.) Children's Literature: An Illustrated History.
Lass-Woodfin, Mary Jo. Books on American Indians and Eskimos: A Selection Guide for Children…
Lynn, Ruth N.  Fantasy Literature For Children and Young Adults. 3d Ed
Meigs; Eaton; Nesbitt;Viguers.  A Critical History of Children's Literature. (prepared in four parts)
Moore, Raylyn.  Wonderful Wizard Marvelous Land  (L. Frank Baum and the Oz books)
Plunkett-Powell, Karen. The Nancy Drew Scrapbook (excellent illustrated guide, with checklist)
Targ, William.  Bibliophile in the Nursery.  
Welch, d'Alt. A Bibliography of American Children's Books Printed Prior to 1821. Amer. Antiq. Soc. (just one of hundreds on the subject of collecting children's books; published by the American Antiquarian Society, an institution with an impeccable reputation for accuracy, completeness and scrupulous research)
Westerhoff, John H., III.  McGuffey and His Readers
LITERATURE
Baker, Ernest A.  A Guide To The Best Fiction in English. (pub. 1913 and dated, but an excellent resource)
Barron, Neil.  Anatomy of Wonder: Science Fiction
Blanck, Jacob.  Bibliography of American Literature   New Haven: Yale Univ. Press
Boyer, R. H.; Tymn, M. B.; Zahorski, K. J.  Fantasy Literature: A Core Collection and Reference Guide.
Burke, W. J.; Howe, Will D.  American Authors and Books: 1640 To The Present Day
<![if !vml]>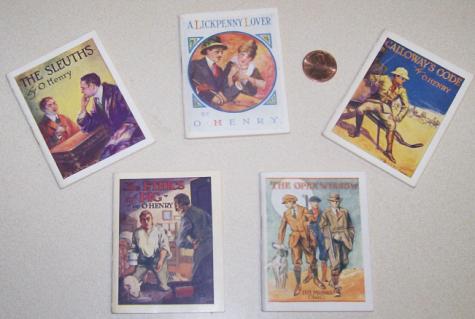 <![endif]>
Garnett and Gosse.  An Illustrated History of English Literature.
Jaegly, Peggy J.  Romantic Hearts: A Personal Reference For Romance Readers.
Kunitz & Haycraft.  Twentieth-Century Authors. A Biographical Dictionary of Modern Literature.  
Lake, Carlton.  Confessions of a Literary Archaeologist. (20th Century French Literature)
Legman, Gershon.  The Horn Book: Studies in Erotic Folklore and Bibliography.
McMillan, James B.  Annotated Bibliography of Southern American English
Olderr, Steven. Mystery Index: Subjects, Settings, and Sleuths of 10,000 Titles.
Tuck, Donald.  The Encyclopedia of Science Fiction and Fantasy (3 vols)
VanDerhoof, Jack.  A Bibliography of Novels Related to American Frontier and Colonial History.  
<![if !vml]>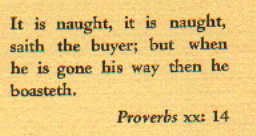 <![endif]>
The Book Collector's Reference Library
| Top |
Ahearn, Allen and Patricia. Book Collecting: A Comprehensive Guide. (one of a large number of great guides)
Atkinson, Frank.  Dictionary of Literary Pseudonyms.
Basbanes, Nicholas.  A Gentle Madness  (all Basbane's books should be read, studied, and enjoyed)
Basbanes, Nicholas.  Every Book Its Reader
Basbanes, Nicholas.  Patience & Fortitude
Basbanes, Nicholas.  A Splendor of Letters
Benet's Reader's Encyclopedia. (essential reference for readers and collectors of general literature and the classics )
Carter, John. ABC For Book Collectors. Granada. (one of the best)
Connolly, Joseph. Modern First Editions. Orbis. (one of many - a very good book)
Ellis, Estelle; Seebohm, Caroline.  At Home With Books (caring for and living with your collection)
Ellis, Ian C.  Book Finds: How To Find, Buy and Sell Used and Rare Books  (for book scouts and collectors)
Glaister, Geoffrey. The Encyclopedia of the Book. (4,000 terms and definitions useful to the collector and dealer)
Haller, Margaret.  The Book Collector's Fact Book. (compendium of useful information)
Hardie, Martin.  English Coloured Books. (London) Fitzhouse.  (comprehensive study of colour printing)
Holden, John. Bookman's Glossary. Bowker, 6th Ed., Revised. (comprehensive dictionary of trade terms)
McBride. A Pocket Guide to the Identification of First Editions (excellent! also available on-line)
McBride, Bill.  Points of Issue.  A Compendium of Points of Issue of Books by 19th–20th Century Authors.  
McKerrow, Ronald B. An Introduction to Bibliography. (only for those who are truly committed)
Minters, Arthur H.  Collecting Books For Fun and Profit: A Basic Methodology. (a thorough, common-sense guide)
 Newton, A. Edward.  The Book-Collecting Game. (long-time classic)
Oxford American Dictionary (any edition, new or old)
Peters, Jean.  The Bookman's Glossary. Fifth Edition. (essential reference)
Schwartz, Lynne Sharon.  Ruined By Reading: A Life in Books  (a memoir of addiction)
Stewart, Seumas. Book Collecting: a beginner's guide. David & Charles. (a good start for the uninitiated)
Tannen, Jack. How To Identify and Collect American First Editions. (accurate, but a bit outdated)
Zempel and Verkler. First Editions: A Guide to Identification. (comprehensive and complete - the best available)
<![if !vml]>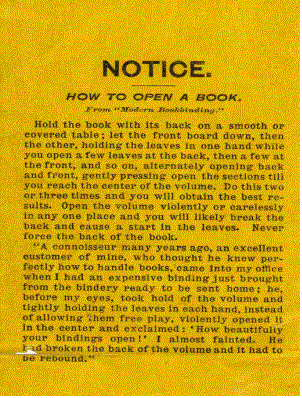 <![endif]>
| Top |
Keep your books cool, dry, and never shelve books in direct sunlight. 
68 degrees f. is ideal.  The sun's harmful ultraviolet rays prematurely age,
deteriorate and fade paper dust jackets and cloth/paper bindings. Dimmed,
incandescent lighting only! Cover fluorescent light bulbs with ultra-violet
blocking sleeves.
Excessive heat prematurely ages paper, cloth and leather. Avoid storing       
books in hot places such as attics and garages, near fireplaces, heaters,
stoves, boilers, radiators, or hot water pipes.  Ideal relative humidity is not
more than 50%.  Paper absorbs moisture, atmospheric pollutants, and
excessive moisture can wrinkle pages, warp bindings, and in extreme cases,
cause mildew. Generally, the moderate Colorado climate is kind to paper
and bookcloth.
Colorado's dry climate is hard on leather, and these bindings prefer 50%
humidity and temps. not over 70° f.  Leather bindings should not be treated
with any type of preservative according to recent studies which are ongoing
Leather dressings and preservatives attract dust and other pollutants
and may actually dry out leather over time.  If you feel that a preservative
is necessary, use it sparingly, and apply with extreme care.  The long-term
effects of modern preservatives on old leather are not fully understood, so opinions may change as new products emerge.  Marney's Conservation Leather Dressing, Neatsfoot Oil, Atom Wax, and Renaissance Wax are current products available, and I use them sparingly.  To stop small areas of red-rot (drying and flaking of the leather), tiny amounts of SC 6000 acrylic polymer treatment may be used.  Never oil pigskin, vellum or suede.
Excessive humidity and exposure to vermin is book abuse. Don't store books in furnace rooms, crawl spaces, outside sheds, the chicken coop, in the trunk, or back window of your car.  I mentioned that paper absorbs moisture, so it stands to reason that airborne pollutants such as combustible fumes, smoke, smog, cooking odors and mold spores, will also be absorbed by paper and leather.  Excessive humidity, dirt and dust will also attract vermin such as cockroaches, flies, silverfish, book worms, carpet beetles, mice, termites and spiders.  I once bought a large collection of military histories that had been in a house where years of cigarette smoke had yellowed the off-white spines.  A slightly moist cloth of water and a mild detergent removed most of the smelly grime.  Fortunately, the last book I found destroyed by a mouse was a book club edition of a modern romance novel. 
Keep high-acid content newsprint clippings out of books. Acid migrates from the newsprint to the surrounding paper, causing stains and deterioration. This applies to any acidic paper.  An alternative would be placing articles in a baggy or zip-lock bag, if you absolutely need to keep them with the book.
Protect your dust jackets with archival dust jacket covers (Duralar, Mylar, Brodart, etc.) and don't clip the price off the inside flap.  Don't use acetate- it's highly acidic, and it tears easily when folded/creased.  Archival covers will not tear. 
<![if !vml]>

<![endif]>
Store most books standing up, with support on both sides. Don't jam them into the shelf, and don't unshelve them by hooking the top of the spine with your finger.  Some conservators don't recommend book shelves that have been varnished, painted, oiled, waxed, or otherwise treated, because books will absorb the off-gassing of these products.
Don't stack your books one on top of the other.  It won't be long before the volumes on the bottom of the stack develop "cocked" or slanted spines. 
Learn how to case and uncase books in slip-cases; It's easy to damage a book's textblock and binding by improper casing.  Come by our shop and I'll show you how to do it the right way. 
Books with heavy textblocks should be stored flat or with the textblock supported underneath by a piece of cardboard/foam board, cut to fit. The reason: heavy textblocks tear away from bindings in which the only thing holding them in place is the hinge. I've repaired dozen of old Bibles and dictionaries with this very problem.
If you're concerned about resale value, don't write anything in your books, with either pen or pencil, if it can be avoided.  To identify your books (in case they're stolen) consider a small erasable pencil mark on a selected page of your choice, or note a unique characteristic about your specific copy (a tear, mark, copy number, signature, etc.)
Books have the greatest chance of retaining their highest possible value when kept in the best possible condition.
| Top |
APPRAISAL CONSIDERATIONS                                                       | Top |
The following general guidelines are not absolute or set in stone, and are not all inclusive.  There will ALWAYS exceptions:
Do Appraise -
Original Source books on travel, exploration, medicine, science, war, history.  (Lewis & Clark, Freud, Capt. Cook, Einstein, etc.)
War diaries, manuscripts, letters, or those related to significant historical events  (American Civil War, World Wars I & II)
Documents related to the beginning or early history of an area (i.e., a Colorado gold camp)
Books signed & inscribed and/or annotated by the author or a significant historic or literary figure.
Firsts:  The first book of aerial dog-fighting tactics from World War One;  the First book of bowling, darts;  The first book on how to cook with a microwave oven;  The first book published for the WPA's American Guide Series;  The first edition of the first Nancy Drew book; The First cookbook published by a former African-American slave;  An author's first book.
Don't Appraise -
Books in poor or less than good condition; incomplete books - missing bindings, pages, maps, plates,
Most encyclopedias, modern dictionaries, reference books, textbooks, books whose information expires or changes all the time.
Most modern fiction, especially reprints, book club editions, copies lacking the dust jacket;
Many, if not most, retired library books, especially fiction.
Most self help, religious and inspirational titles;  How-to and craft titles, Antique price guides.
Reprints of the Classics, Poetry, History, Travel
Most Holy Bibles, except for the scarce and/or rare editions.  See my chronology of the Bible.
  There are exceptions to all of the above categories 
Work in progress.  View my appraisal page.
COLLECTING EPHEMERA | Top |
Ephemera is a paper item or document that is generally printed, and is intended for one-time use (a raffle ticket) or short-term use (a bus pass).  The Encyclopedia of Ephemera lists over 500 categories of ephemera, and I suppose anything that is printed (and not published) has the potential of becoming a future item of collectible ephemera (i.e., "early 21st Century vintage cell phone and I-Pod packaging and instructions"}.
So many items have the potential of becoming "collectible" that I won't try to narrowly define what you should personally look for.
My own ephemera "collection" includes items that I find in books, such as business cards, tickets of all kinds, random slips of paper with written notes, newspaper clippings, etc.  The list is endless, and growing.  The Ephemera Society of America has a great website.
<![if !vml]>

<![endif]>                         <![if !vml]>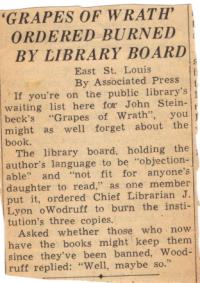 <![endif]>
copyright 2015 by Douglas P. Clausen