<![if !vml]>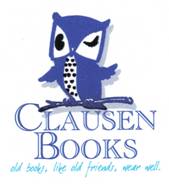 <![endif]>
2316 N Wahsatch Ave #234 Colorado Springs, CO 80907
719-331-0785
 Open by appointment only
|   HOME   |   RESOURCES   |   BOOKCOLLECTING 101   |   HENRY A. CLAUSEN   |   RMABA   |
|   WANT LIST   |   SEARCH OUR ON-LINE INVENTORY   |   GUTENBERG BIBLE CENSUS   |
<![if !supportLineBreakNewLine]>
<![endif]>
 2022 Appraisals
Book Condition Grading Standards
- Certified Appraisals: - start at $10 per book or paper collectible/ephemera (and up), or $100.00 per hour for large collections or house calls (including local area travel time) plus mileage, and associated expenses. This is a mandatory personal examination of book properties by the appraiser to accurately determine condition, pagination, edition, rarity, demand, provenance/association value or other unique factors that could affect book value, such as signs of alteration or rebinding of the original material.
- The personal examination is followed by a written report that specifies sources used to determine value, including book auction records (foreign and domestic), sales records, price guides, bibliographies, dealer catalogs, publishers records, and additional data. Also included is an evaluation of the condition of each book property, wherein a condition grade is given.
- The Fair Market Value of each book property is determined, valid for a period of two years, using the Market Data Comparison method accepted by the Appraisal Foundation, the American Society of Appraisers and the Internal Revenue Service. Applicable IRS Publications include 526, 547, 561, and  2194.  We follow the 2021-2022  Uniform Standards of Professional Appraisal Practice (USPAP) of The Appraisal Foundation. Clausen Books is not currently a member of the American Society of Appraisers, however we support and promote the Principles of Appraisal Practice and Code of Ethics of the American Society of Appraisers.
---
Estate/Probate Valuations, Charitable Donations,
Insurance Riders
Standard Fair Market Value Determination
Internal Revenue Service Tax Deductible Contributions
---
no "on-line" appraisals or informal "price-guesstimates" performed
Call 719-331-0785 text or voice-mail
e-mail: bookmail@clausenbooks.com
---
We follow and abide by the code of ethics and standards of the Rocky Mountain Antiquarian Booksellers Association, The American Society of Appraisers (ASA) and The Appraisal Foundation - authorized by the U.S. Congress as the source of Appraisal Standards and Appraisal Qualifications.  The Appraisal Standards Board of the Appraisal Foundation has promulgated the Uniform Standards of Professional Appraisal Practice (USPAP) which is regularly reviewed and updated.
We adhere to the USPAP, with emphasis on Standards Rules 7 & 8 which address personal property, whose purpose is "to promote and maintain a high level of public trust in appraisal practice by establishing requirements for appraisers."  These requirements promote and encourage professionalism and integrity in the used and rare book industry. We appraise single titles or entire collections. The appraisal includes written documentation that may be used for estate/probate, tax deductible contribution, personal/resale and insurance purposes.
- Valuations are based upon proven methods of investigating and determining fair market value. An extensive library of bibliographic resources, auction records, price guides, and other sources of information collected over a 50-year period make our appraisal process more than a mere comparison and contrast of prices on the Internet.
- Book grading standards used include those established by the Antiquarian Booksellers Association of America, the Rocky Mountain Antiquarian Booksellers Association, The Library of Congress, The Manuscript Society, The Independent On-Line Booksellers Association, and The Antiquarian Bookman.
---
Book Appraisal Policy
Unless otherwise stated, all appraisals conducted by Clausen Books are for the purpose of determining the fair market value of book properties that have been personally examined by our appraisers, and evaluated for condition, rarity, desirability, provenance and resale. The fair market value (FMV) of a book property is that amount which a willing seller may reasonably be expected to charge and a willing buyer may be expected to pay, when neither is compelled to do so and both are aware of all the facts related to the book and its sale. The fair market value of a book is NOT the price a seller will receive when offering the book directly to a book dealer.
Clausen Books will not and cannot purchase, or take on consignment, any book property that has been appraised by us. This policy is for our protection as well as that of the owner of the book property. This insures an accurate and ethical "disinterested third-party" appraisal.
Appraisals are not conducted contingent upon the appraised value of the book or book collection (charging an appraisal fee based on a percentage of the appraised value). This is an unethical practice and is forbidden by the IRS, ASA and the Appraisal Foundation.
It must be clearly understood that the fair market value of a book not be confused with its replacement cost. Book values change over time, and knowledgeable dealers establish prices dependent upon supply and demand. At times the replacement cost of a book may exceed or fall short of the appraised fair market value of the book, dependent upon the locale of the book dealer, or time elapsed since the appraisal.
With the advent of the internet global bookseller, many books have become easier to locate, which in some instances has caused book prices to fluctuate above and below their actual retail value. Thousands of new, amateur book dealers are now selling books on the internet, having little or no knowledge of books or actual book values. This has at times resulted in huge price differences among dealers for the same book. It is for this reason that we base our appraisals not only on current market indicators, but also on solidly established book values as determined by, current industry value guides, long-established rare book dealer catalogs, bibliographies, collectors guides, book auction records, and thousands of other sources of collected book value data. We have one of the largest and most in-depth bibliographic resource libraries in Colorado Springs, having collected appraisal data for over 50 years.
Appraisals include an evaluation of book condition, often the most important but frequently overlooked factor in determining book property value. We grade books according to long-established standards set by the Antiquarian Booksellers Association of America, The Library of Congress, The Manuscript Society, the Antiquarian Bookman, and by Henry A. Clausen, who founded Clausen's Bookshop in 1946.
---

Book Condition Grading Standards
For Appraisal of Fair Market Value
The IRS requires that the condition of personal property be described in all appraisal reports. For report purposes, or when listing a book on the internet, in a catalog or brochure, we grade books according to the following standards:
Very Fine -The highest rating assigned to a book is Very Fine- abbreviated VF in most catalogs and on the internet. It is rarely used, as it requires that a book and its dust jacket (dj) be absolutely flawless, and perfectly pristine, without even the slightest hint of a rubbed or bent edge to the wrapper, or lean to the spine. Few books meet this rating, even most new books. Manufacturing flaws, careless gluing or sewing at the bindery, may relegate a new book to a less than VF category. Books in Very Fine condition should never be casually handled or opened, although a careful bibliophile can examine and read a VF copy without reducing its condition.
Fine - Most new books that have not been handled by the browsing public and are not marked, stamped, written in or altered in any way, are initially rated Fine (F), provided their dust wrappers also meet the criteria. A Fine copy may permissibly have a slightly rubbed edge or tiny crease, and this must ALWAYS be identified, but a torn edge or dirt smudge renders the book less than Fine. Fine copies have no flaws, but are not as tight or ramrod straight as a VF copy.
Near Fine -These books have some minor flaw(s) that keep them from being assigned to the Fine category. It is generally permissible (except by the most stringent purists of book collecting) to give a book a Fine rating and at the same time, down grade its dust wrapper to Near Fine or lower, so that descriptions of NF/NF, F/NF or F/VG+, may be routinely used. In ALL cases, flaws must be described. This is especially important for expensive, collectible books in Near Fine or better condition. To err on the side of understatement rather than over-praise a book's condition is our policy.
Very Good - These books have minor flaws that are always identified. The overall condition of a book is taken into consideration before being rated VG. These books have been read several times, and have scuffed edges, bumped corners, but are otherwise still tightly bound with no loose or dirty pages. A book with a pristine book block (the contents from the first to the last page), but with minor tears to the spine, worn edges, or small stains on an otherwise clean unblemished binding, would be rated as VG or even VG+, if the defects are minor enough. Very clean and tight (relating to the binding) ex-library books, that are stamped, labeled, or marked in the usual manner by librarians, are graded as VG or VG+, depending upon the crispness and cleanliness of the pages. When grading books in the VG category, dust wrappers are graded SEPARATELY, and all flaws noted. Common entries may be seen as VG/VG, VG+/VG, NF/VG+, and so on, with the second set of letters related to the condition of the dust wrapper. Books in the VG category are open to the most criticism
Good - Books in Good (G) condition are worn, usually inside and out, but all printed pages are present, and the binding is intact. The book cloth may be worn through, pages may be torn, soiled, marked on, or fragile, but the book will be perfectly readable. Thus, it will usually be identified as a reading copy. Cloth bindings are subject to wear and tear, stains, rips, rubbing, bumping to the corners, and bending, but if they do their job of protecting the contents and keeping the pages clean and intact, we rate the book as Good (G). Many discarded library books meet this standard, and again we describe all flaws.
Fair to Poor - Books in this condition are very worn, stained, ripped, unattractive, with broken or weak hinges and/or spines. Pages and bindings may be missing, loose, or badly torn or stained. Some children's titles end up in fair to poor condition, but are so desirable to many collectors, that their condition is forgiven. Books in other categories are not treated as kindly and may have only salvage value.
What is Fair Market Value?
Fair Market Value- IRS Publication 561, page 2, defines Fair Market Value (FMV) as "the price that property would sell for on the open market. It is the price that would be agreed on between a willing buyer and a willing seller, with neither being required to act, and both having reasonable knowledge of the relevant facts. If you put a restriction on the use of property you donate, the FMV must reflect that restriction."
_______________________________________________________________________________________
Applicable Internal Revenue Service Publications available at http://www.irs.gov/
Publication 526, Charitable Contributions
Publication 561, Determining The Value of Donated Property (Revised January 2022).
Internal Revenue Bulletin 2006-46,  issued Nov 13, 2006, Notice 2006_96 – Guidance Regarding Appraisal Requirements For Noncash Charitable Contributions (www.irs.gov/irb/2006-46_IRB/ar13.html )
Publication 547, Casualties, Disasters, and Thefts
Publication 2194, Rev. 2-2012 Disaster Losses Kit (http://www.irs.gov/pub/irs-pdf/p2194.pdf )  
______________________________________________________________________________________
APPRAISAL CONSIDERATIONS
The following general guidelines are not absolute or set in stone, and are not all inclusive.  They are my opinions, and there will ALWAYS exceptions:
Do Appraise -
Original Source books on travel, exploration, medicine, science, war, history.  (Lewis & Clark, Freud, Capt. Cook, Einstein, etc.)
War diaries, manuscripts, letters, or those related to significant historical events  (American Civil War, World Wars I & II). Large or significant collections of letters, diaries, documents in the original hand of the author.
Original documents related to the beginning or early history of an area (i.e., a Colorado gold camp); Documents of historical interest and/or importance.
Books signed & inscribed and/or annotated by the author or a significant historic or literary figure; books with association value and/or provenance which may add to the value.
Books or ephemera that straddle several genres of interest to collectors.  For example, a book of literary anecdotes from the early nineteenth century with a fore edge painting of a fly fisherman on the bank of an English river.
Firsts:  The first book of aerial dog-fighting tactics from World War One;  the First book of bowling, darts;  The first book on how to cook with a microwave oven;  The first book published for the WPA's American Guide Series;  The first edition of the first Nancy Drew book; The First cookbook published by a former African-American slave;  An author's first book.
Special editions of illustrated books done by collectible illustrators such as N.C. Wyeth, Harrison Fisher, Rockwell Kent, Picasso, Howard Pyle, and others.  Even better if the book is a limited printing and/or signed by the illustrator.
Don't Appraise -
Books in poor or less than good condition; incomplete books - missing bindings, pages, maps, plates,
Most encyclopedias, modern dictionaries, reference books, textbooks, books whose information expires or changes all the time.
Most unsigned modern fiction, especially reprints, book club editions, copies lacking the dust jacket;
Many, if not most, retired library books, especially fiction.
Most self help, religious and inspirational titles;  How-to and craft titles, Antique price guides.
Reprints of the Classics, Poetry, History, Travel
Most Holy Bibles, except for the scarce and/or rare editions.  See my chronology of the Bible.
There are exceptions to all of the above categories
_______________________________________________________________________________
Definitions
from the USPAP
"Appraisal: (noun) "the act or process of developing an opinion of value. (adjective) of or pertaining to appraising and related functions  such as appraisal practice or appraisal services …An appraisal must be numerically expressed as a specific amount, as a range of numbers, or as a relationship (e.g. not more than, not less than) to a previous value opinion or benchmark (e.g., assessed value, collateral value).
"Appraiser: one who is expected to perform valuation services competently and in a manner that is independent, impartial, and objective. Comment: Such expectation occurs when individuals, either by choice or by requirement placed upon them or upon the service they provide by law, regulation, or agreement with the client or intended users, represent that they comply.
"Personal Property: identifiable tangible objects that are considered by the general public as being "personal" – for example, furnishings, artwork, antiques, gems and jewelry, collectibles, machinery and equipment; all tangible property that is not classified as real estate "
Written Reports
In accordance with USPAP Standards Rule 8-2 (line 2018, page U-62), each written appraisal report is prepared under one of the following three options, prominently stated as:
1) Self-Contained Appraisal Report, 2) Summary Appraisal Report, or 3) Restricted Use Appraisal Report.  Contact us for further information and clarification.
Qualifications
   My qualifications as a rare book appraiser are as follows: I and my wife Pam (now deceased) operated an open bookshop on North Weber Street for 17 years in Colorado Springs. We closed the shop in April 2017, and Pam passed away from cancer in November 2017. I continue to operate a rare and used on-line bookshop in Colorado Springs. Clausen's Bookshop was founded by my father Henry A. Clausen, on July 1st, 1946. I worked for my father learning the used and rare book and ephemera trade, including appraisals, beginning in 1965 and have been involved with the rare book business since then. I am a graduate of the Antiquarian Bookmarket Seminar given at Colorado College and conducted by past presidents and leading members of the Antiquarian Booksellers Association of America.
    I was certified as an expert witness for the prosecution during a 2005 military Article 32 Board, which led to the court martial of a service member accused of stealing high-value rare books from a military library. My appraisal went unchallenged and along with other evidence led to a plea of guilty and the defendant's dismissal from the service. I am a former member of the Board of Directors of the Friends of the Pikes Peak Library District and in that capacity I ran the quarterly book sales, and was the board's treasurer. I am the former Sheriff, treasurer, and secretary of the Pikes Peak Posse of the Westerners, an historical organization founded over 25 years ago, and I also headed the Colorado Springs Ghost Town Club, founded by local historians in 1946. I am a member in good standing of the Rocky Mountain Antiquarian Booksellers Association (RMABA), and I am the association's former president. RMABA has members in Colorado, New Mexico, Wyoming, Montana, Utah and a number of states back east. I am also a member of the Board of Directors of the Colorado Springs chapter of A New Deal For the New Deal, an historical association dedicated to preserving the legacy of the federal government's New Deal programs of the 1930s and 40s.  Pam, a retired educator and reference librarian, was the co-chair of the 2006 Rocky Mountain Book and Paper Fair.  She was also the editor of a history of her hometown, Rosemount Minnesota.
    I began independently appraising and selling used books on the internet in 1998, and had an open shop from 2000 to 2017. Since 1998, I have appraised close to $1.5 million worth of used and rare books and ephemera. I am a life-long student of classic literature, American History, bibliography and the history of the book, having now amassed a reference library of over 1,000 volumes. I am registered with the Appraisal Foundation of Washington, D.C., and my appraisals comply with the current Uniform Standards of Professional Appraisal Practice (USPAP), and IRS Publications 561 and 526.
_______________________________________________________
CONFIDENTIALITY
   Some of our clients include financial institutions, colleges and universities, private and public libraries and museums, the Department of Defense, private collectors and/or donors, collegiate athletic associations, law firms, and non-profit organizations.
   We do not disclose information about our clients, or their identity to the general public or to persons or agencies not having the legal right to this information. Pursuant to the passage of the Gramm-Leach-Bliley Act of 1999, numerous agencies have adopted privacy regulations. Such regulations are focused on the protection of information provided by consumers to those involved in financial activities "found to be closely related to banking or usual in connection with the transaction of banking."  These activities have been deemed to include "appraising real or personal property." (Quotations are from the Federal Trade Commission, Privacy of Consumer Financial Information; Final Rule, 16 CFR Part 313.)
reviewed and updated  March 6, 2022.